Refreshing the Field of Fiction Publishing: a Roundtable Chat With Three Editors of Fiction-Focused Lit Mags
Refreshing the Field of Fiction Publishing: a Roundtable Chat With Three Editors of Fiction-Focused Lit Mags
A conversation among RW Spryszak, editor of Thrice Fiction; Matthew Limpede, editor of Carve; and Matt Potter, editor of Pure Slush.
***
Are there trends you'd like to encourage in terms of submissions? Trends you'd like to dissuade?
RW Spryszak – Thrice Fiction: Email makes it much easier for someone to argue with you about your decision on their submission. There's no time lag waiting for the snails to deliver the bad news, as in days gone by, so people seem to be more inclined to want to argue a point. I may have said "well this or that is the reason I can't take it" and the guy writes back, in two minutes "so, what if I changed that? Would you publish it then?" And of course there's no way to answer that, and in fact seeing a question like that fired back so suddenly kind of puts you off the meal, so to speak. So back in the day, when there was time to digest the rejection, you – as a writer – would have an easier time moving on. Finding a way to fix something and still be true to yourself, or finding another venue altogether. With instant communication it's like you're running a discussion board. I mean... sit back, take a deep breath, and don't hit SEND. If there's a trend I've noticed as a difference between pre-internet and now (and I've done zines in both eras now) it's that, exactly. We live in an in-your-face culture. People view that right-back-at-you kind of thing as a virtue I guess. I don't know.
As for trends I'd like to encourage – there's no new ground to be broken here by me. I still wonder what it takes to get people to read the submission guidelines. People have been saying that for a century – through all the different media we've done this in – and there's always somebody who misses it. Read the damn journal to see if it's even your market, and understand what the guidelines are saying to you. But it still isn't done. We don't read certain times of year, and that is a published "known." But here come the submissions. How is that even possible?
Matthew Limpede – Carve Magazine: I'd love to see more quality experimental fiction. I'm a big fan of playing with form and content and seeing how they can intersect. In some ways we've made more room for this with our poefictiontry feature, which is less concerned about the genre (is it flash fiction, poetry, micro fiction, or something else? We don't care.) and more about the story and the lyricism with which it's told.
I've often thought that perhaps experimental works are something we have to aggressively seek out because lit mags can kind of create a feedback loop where they publish a certain style or tone and that encourages readers and submitters to submit similar works, which results in more works like that being published, and so on. But experimental in and of itself is difficult to define and qualify, so that may be part of it.
We, too, struggle with submitters who don't read guidelines. That'll never seem to change. And I don't really engage with those who are looking to defend their work upon rejection. That's why we have our "Decline/Accept" feature (formerly called Reject!) — if a story we declined is published elsewhere, we give them kudos and will list it on our site.
Matt Potter – Pure Slush: The submission issue bugs me too, yes. I received a submission just yesterday, which actually looks (and reads) like spam. Even the email address looks spammy. I am unsure what to do about it. Pure Slush is currently seeking submissions for two projects – travel, for online publication; and stories about food and eating, for Feast!, for print publication. I can't see where this submission actually fits either.
So the next question is, if a submitter cannot read up on the submissions process, then why should I read the submission? (Although maybe the submitter is really clever, and is preempting the yet-to-be-announced spam theme on Pure Slush?!)
Beyond that, the single biggest issue for me is reported or indirect speech. It's a fashion: be hip, don't use quotation marks, keep your distance, don't really get involved.
Readers want to be enveloped in a story – isn't that WHY we read? it takes us somewhere else – but the cool pose of reported or indirect speech bores me to tears. (And for many writers, it IS a pose. And if I want to experience real posing, I'll listen to actors talk about acting!)
Hearing (or reading) me bang on about how uninvolving reported speech is, is almost as boring as reading stories with it. I'm quite over both.
As well as studying your journal's content, are there specific authors you'd recommend to writers interested in submitting to your journal?
Matthew Limpede: Being named in honor of Raymond Carver, it stands to reason our submitters should have at least a vague notion of who he is and his body of work. What we love about Carver is the range he shows over the span of his writing career. His "minimalist" style—despite however much one wants to attribute that to Lish—was his own, but it eventually gave way to the longer works of "Cathedral" and "Kindling" that stir us just as much. So we're not always looking for the most economical stories, but the ones who, like Carver's, wield the awesome power of ordinary language.
The other stalwarts I recommend are Aimee Bender and Amy Hempel. Bender for her ability to balance even the most fantastical stories with arresting emotion, and Hempel for her brilliant narrative voices and attention to details and rhythm. Another author, lesser known to a degree, is David Benioff. He has two novels and a short story collection and is a fine example of making longer stories feel lightweight. No word is wasted and your patience is never tested. Incredible craftsmanship in his stories.
I could list many more, but I would say those four are our cardinal directions in terms of style and essence—from minimalist to maximalist, whimsical to grounded. Any story that has glimmers or echoes of them will likely draw us in.
Matt Potter: No, not at all. I have never read any Raymond Carver (and I realise he's a bit of a god to many) and now, I read (for my own pleasure) mostly non-fiction. 95% non-fiction. So that is not very helpful either.
The word most-used to describe Pure Slush is 'eclectic'. While I do think it's a bit of a fallback adjective, it bothers me less than it used to. Words I think are accurate descriptions are witty, fun, intelligent and inventive. (The invention – and please don't say inventiveness, the word is invention – reflects the structure of many of the PS projects.)
My own favourite author for a long time was Ellen Gilchrist. I loved the drama and flair and the ease of her writing, and her writing made me laugh a lot.
But as for authors … if you wrote, My favourite authors are Charles Dickens and Stephen King, I would think, well, how can we get around this? But anything is possible and my own tastes are my personal tastes.
What I am interested in is true and real and I am not vaguely interested in hip and fashion.
RW Spryszak: I think I'll echo much of what Matt said here, because I'm ready for anybody to give me something good on their own terms. We use standard form fiction (traditional short stories) as well as material that would be difficult to categorize. Genre bending. Something unexpected. That sort of thing. So it doesn't matter to me who the writer's heroes are.
But I'll show my cards and suggest that writers cut down on the artifice and contrivance. Keep it simple. I can't say I'm a huge Hemingway fan, but look at The Old Man and the Sea. Like it or not for what it is or who wrote it, it is at least technically pretty near perfect for its form. He just went through the story. That's all. No mucking it up with half-ass observations in the middle of slamming a paddle into the shark's head.
For me, Elmore Leonard's 11th rule sums it up best. "If it sounds like writing, rewrite it." I'd suggest our submitters find writers whose work just moves them along so effortlessly that they're on page ten before they even know what hit them. Then do it like that. Easy. Nothing forced. Plus there's a lot to be said for writing the kind of stuff you like to read. The caveat being, of course, don't let the inspiration move you to duplication.
What common mistakes would you warn against in terms of writing and submitting fiction?
Matt Potter: There are 2 big issues for me here. The first is: Don't write about what you have no idea about.
I was working with a writer a couple of years ago. We had actually met, in person, and I found her very amusing despite many of the difficulties in her personal and family life. But she chose to write ponderous and ill-thought out magical realism (her noun, not mine) and after a lot of back and forth I wrote to her: you're a funny person with a unique life, why aren't you writing about that instead of this other turgid stuff?
I believe the second thing to think about here, however, is the very opposite! Memoir-as-fiction can be very obviously boring and only of interest to the writer.
Is it true that every recent MFA graduate turns their own life into a book? It sometimes seems that way. I am personally, not really that interested in the searing truths of the life of a 23 year-old. I was 23 once and my life is much more interesting now, 25 years later. Really, it is.
RW Spryszak: I think the word "had" qualifies as a mistake about 80% of the time. Go to your latest manuscript, type the word "had" in your Search This Document, and click Enter. All the "had"s will be highlighted. Delete more than half of them and I guarantee you the writing will be improved. "She was quiet when she had stood in the doorway" becomes "She was quiet when she stood in the doorway." "When he had had enough" becomes "When he had enough." "Had" is a good word, and there are times you absolutely need it. But much of the time it's completely useless. Do the above and your writing will improve exponentially. I guarantee it.
I think the second mistake is related to the first in a way. Too many words. And this comes in many forms. For example, I know the protagonist's name is Ernie. You don't have to tell it to me over and over. Ernie opened the door. Ernie looked outside before he went. He thought to himself, "Ernie, watch for those flying cars." And though if the next line would be "Ernie didn't like flying vehicles," that might be funny, it never seems to go there. It's Ernie this and Ernie that. I know his name is Ernie already, God damn it. Another form of verbosity is the detailed description. Seriously, do we need much of that in short fiction? I don't think so. I don't even care for it that much in long form, let alone how it shipwrecks your mojo in short form.
Ernie knew the facts. Ernie had had enough of the blue steel door with the gold-plated knocker from Venezuela he had bought in 1963 when Ernie had served on a green-tinted warship in the US Navy as they had been blockading the Cuban ports.
You think I'm kidding? Nuh-uh.
Matthew Limpede: One of our bloggers just put together a terrific list of mistakes writers make when submitting. It's gone viral and received thousands of views in a matter of days: http://carvezine.com/from-the-editor/mistakes-writers-make-when-submitting-to-literary-magazines.html. It really sums up well the most common things submitters do to hurt their chances of getting read and published.
I think I'm still fairly new to this editing business (going on 7 years) so my list of warnings may not be as long as more veteran editors. I'd say the biggest mistake a writer can make is not having enough patience. Most editors are writers too, so we know how agonizing the wait is. But we're not going out of our way to annoy writers with long response times. It's just the nature of the business. I've had writers who've pulled their work just because it had been more than 6 months, but they had made it through several readers and to my desk. Don't let impatience rob you of opportunities you may not even be aware of yet.
What is the future of short fiction publishing?
RW Spryszak: I think we're in it now. And we need to remember, it's not only small online journals, but there is still a cadre of dedicated paper ziners out there creating hand art that has no connection to the internet. That's the world I came from, and I keep an eye on that.
I can't see the future, but I don't have a problem saying that the answer to this question is, "you're looking at it." Upstart independents. Since the glory days of Factsheet 5, it's always been this way. And now that – in the wider publishing world – the Big 6 are down to 5, I think we'll see even more guerilla pubs. At least, I hope that's what it is.
Matthew Limpede: I agree that the state of short fiction publishing probably isn't changing anytime soon. Like other forms of art, we've been playing with technology and seeing how it can enhance the experience. But ultimately, a story is a story, a play is a play, art is art. If it doesn't move people, they won't be interested, no matter how many bells and whistles are attached.
I do think paper/print will become very niche, retro, antique, but that can have a way of making it more popular. People enjoy finding things that feel special and aren't ubiquitous.
If there's any dramatic shift in short fiction publishing in the future, I imagine it's coming beyond our lifetimes. There's been some interesting research and study of how the brain takes images and plays them like a movie. (http://newscenter.berkeley.edu/2011/09/22/brain-movies/). I wonder if someday we'll be able to strap a visor over our eyes and see our imagination play out as we read, maybe even capture it and share it. That would be incredible to see two different persons' imaginings of the same story.
Matt Potter: I have no idea. Well, I have some ideas, but I don't know how valid they are! The brain movies idea is interesting, as a constant remark I make to writers is,
Stories are about creating images in the reader's head, so your words have to help the reader create those pictures. This is a version of the ole 'show don't tell'. And this is especially so since really, we live in the age of cinema or the moving image.
But Matthew is right with a story is a story, a play is a play, etc … they are all words on the page (in different ways) and the key is how those words are presented and accepted and processed.
Pure Slush publishes various electronic versions of all the print books in its catalogue, though print still far outsells eBooks. (I think that's also a quirk of micro publishing though.) But what heartens me to some degree is, babies cannot thrive without being touched. They can't. If a baby isn't touched, it dies. So I think there is something about holding a book that you can't get from holding something electronic. This, however, may just be me being exceptionally naïve.
How do you see fiction evolving in terms of structure and interstitiality?
Matthew Limpede: I think answering the last question is a bit above my pay grade. I've not spent a lot of time studying the evolution of the short story structure over time. (I leave that to the more academic-minded folks, a world I left years ago.) Just from my limited and biased perspective, it seems the trend in the big three anthologies (Pushcart, O'Henry, Best American) has been away from distilled, local stories of quiet grace in favor of more maximalist stories that take place in foreign locales and are loaded with metaphor and drama. I'm also always surprised by how long they are, like they're compensating for the commonly held belief that no one likes reading short stories by making them borderline novellas. Still, that's the beauty of the literary landscape, that there's so many little magazines pushing and discovering all types of writing in so many diverse shapes and forms. It's definitely an exciting time to be a writer and try new things.
RW Spryszak: Well, now I know why I don't think I've ever used the word interstitiality in my whole life. Or interstece either, for that matter. But anyway...
I've been wondering why the novella hasn't come more into prominence than it has. So many people tell me they don't have time, or wish they had time, to get involved in a novel, but can't (or won't). With all of our time saving devices, GPS always sending us on the shorter route, and the language of acronyms cutting the spoken word to shreds (omg), you would think we'd have more time for things. But you'd be wrong, apparently. So, saying there are people who still read somewhere out there, why hasn't the form between short story and novel defaulted to the favored one? The answer, of course, is money. The Big 5 look at the production costs of a novella as compared to the novel and it turns out their profit margin is lower for the novella because the difference in production cost between the two is not that much. And they can't charge twenty or thirty dollars for a novella. So screw the novella, boys.
This leaves it up to the small presses, and print-on-demand operations. And that's where I think it happens. Outside of the stuff no one has thought of yet (who did Flash in 1837? Or Micro in 1937?) – and I wouldn't doubt there's something else we can think up – I'm thinking the quick hit novella form might be where it's at. If for no other reason that I predicted as much ten years ago and it hasn't happened yet and I'm stubborn and unreasonable and even if it never happens I'll pretend like it did. Because that's the way I roll.
Matt Potter: Above all, writing is about communication and I have absolutely no idea what interstitiality means. And I haven't looked it up since I blanched at it when I first read it. What it communicates to me is … well, actually, I don't know, beyond being both irritating and alienating. But hey, it also made me laugh, which is a good thing.
The revival-of-the-novella idea is interesting, because I have found myself writing and publishing them since I started in this field and I never would have thought I'd be working on novellas! I always thought the novella was a bit of a joke, you know, the book that never was, the book that never really made it to the finish line, that ran out of steam … before …
The trend has been, over the last three decades, for feature films to become longer and longer and longer (insert yawn here) and it dismays me when I hear about friends joining book clubs where the books to be read are 500 pages long or longer or longer again. Who has time to read a book of that length every month, unless you have little else to do? And what if it's boring?
A flash collection can become a novella, so can a novella collection become a novel? So perhaps now is the time to revive / reinvent / reappraise the novella. I like to think so.
Since your three journals run the gamut of publishing formats, it will be interesting for our readers to see a comparison; describe your own journal's evolution in terms of print versus online publication.
Matt Potter: I started Pure Slush online in December 2010 because I could feel my own creativity re story writing ebbing and I didn't want to grow bored. I already had my own personal website so starting PS online was relatively easy. A month after the first fiction went online, PS started publishing non-fiction online too.
After about 8 months I was on holiday in Brisbane in northern Australia and started talking with a friend we were staying with about print options … she gave me some pointers and then 3 months later the first print volume (slut Pure Slush Vol. 1) was published.
Print and online are quite separate with PS, there is about a 0.00001% cross-over. It is very rare that a story PS publishes online then finds its way into a PS print anthology.
I did not think about eBooks until an author whose collection PS published asked about eBooks. So over a few months I started those, first ePubs (which can be converted for many eReaders) and then later for Kindle. PS has been publishing eBooks for about 18 months now, and print books since late 2011.
Matthew Limpede: Carve started as primarily online in 2000 under Melvin Sterne's editorship. He published 12 stories every other month, and published a Best Of annual paperback anthology. I took over in 2007 when Melvin left and converted Carve to a quarterly publishing 3-5 stories/issue, still online. I continued the paperback anthology and included every story published that year.
In 2012, we decided to go retro and start the Premium Edition which is a print version of our magazine that includes more content than what's online. (We're backwards and proud of it.) We think print is a personal, intimate experience, so our Premium features include in-depth interviews with the authors, poefictiontry, stories that we passed on that were published elsewhere, hand-drawn illustrations, and Story Statshot, which reveals how many revisions, rejections, and months each author waited before finally getting his / her story published. We still publish our stories online for free because we think doing otherwise would dishonor Melvin's original vision of using the internet to increase exposure and access to short stories.
Our Premium Edition subscriptions have steadily grown, and our sales in bookstores have surpassed our expectations and typical projections for "new" publications, so all in all, we're hopeful for the future. But — it is expensive and I see why so many rely on advertising (which we're beginning to adopt now as well).
RW Spryszak: Thrice Fiction is an online journal with a print-on-demand capability. It's free online, and can be downloaded as a pdf or into various devices at no charge. This includes the entire archive (so you might be able to see why, when I get submissions that make no sense in our context, I can sit back and say the writer didn't have an excuse). But the print copy costs money, and here was the choice.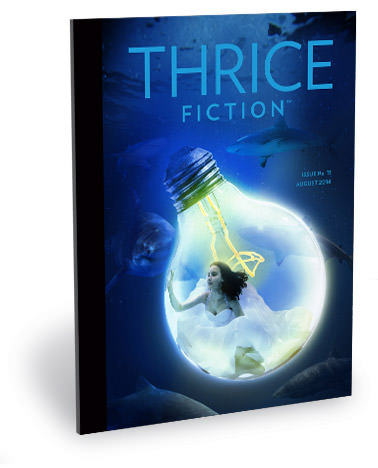 The hard copy is produced by MagCloud and the cost is determined by how big an issue it is. So it can go for $7 or $17. In that option the publisher has the opportunity to add a little extra to the cost if they want to pull in a few bucks for the magazine itself. My associate, Dave Simmer, made the call – and I agreed with him – not to put that little extra in the cost. So every hard copy that gets sold makes 0 dollars for Thrice and there's a very important reason for that. It's bad enough we can't afford to give our contributors some kind of honorarium for being included in an issue at this point, so how much worse would it be if we charged them for a hard copy and made money off of them? That's just wrong on a hundred levels, especially since we are anti-reading fee and all that kind of nonsense to begin with.
In the last year or so Thrice Publishing has been formed to produce stand-alone titles under the Thrice banner. We have been registered as a not-for-profit and are in the process of looking into possible grants to help us get going. We have our first title and it is in the editing stages. When and if we can get to the point of attracting advertising in the magazine or for the future stand-alone titles, there are a whole host of not-for-profit rules we have to follow. Plus, Thrice Publishing offers editing and design services, either for writers who want to have another pair of eyes look at their material before they submit it or go agent-hunting, as well as cover and appearance design if they are self-publishing.
So the evolution we hope for, and are planning for, is an ongoing thing. And considering Dave and I started Thrice as a kind of vanity item for people in our wider blogging network (back in the day when there were such things) that now has a regular readership, per our tracking stats, of around 4000 readers an issue, I'd say we "done good" with this thing.
Matthew Limpede lives in Dallas, Texas and has been the editor of Carve since 2007. He loves traveling and hates cold weather. You can learn more about him and his passion for fiction at matthewlimpede.com.
Matt Potter is an Australian-born writer who keeps a part of his psyche in Berlin. Matt has been published in various places online, and he is, rather amazingly, also the founding editor of Pure Slush. You can find Pure Slush here (http://pureslush.webs.com/) and more of his work here (http://mattcpotter.webs.com/).
RW Spryszak participated in the alternative zine scene in the 80's & 90's and wound up editing The Fiction Review. Some of his work from that era (Slipstream, Lost and Found Times, Asylum, Version90 and others) is included in John M Bennett's Avant Writing Collection at the Ohio State University Libraries. Currently editor at Thrice Fiction Magazine. He can be found online at rwspryszak.com.
Photo credit: Thomas Hawk / Foter / CC BY-NC