Navigating the Terrain of Travel Writing: A Chat With Author Thomas Swick
Navigating the Terrain of Travel Writing: A Chat With Author Thomas Swick
Interview with Thomas Swick


Thomas Swick was the travel editor of the South Florida Sun-Sentinel from 1989-2008. His work has appeared in the Missouri Review, Wilson Quarterly, American Scholar, Oxford American, Ploughshares, Boulevard, Smithsonian, National Geographic Traveler and six editions of The Best American Travel Writing. He is the author of a travel memoir, Unquiet Days: At Home in Poland; a collection of travel stories, A Way to See the World; and, most recently, The Joys of Travel: And Stories That Illuminate Them.
Interview by e.v. de cleyre
How has the landscape of literary magazines and travel writing changed since you began writing?
There has been surprisingly little change. I sold my first travel story to the North American Review (in 1981) and one of my most recent to the Missouri Review. Some literary magazines have disappeared (Antaeus, Grand Street, etc.) while others have sprung up (n+1, The Believer, etc.). Anyone who's ever walked through the exhibition hall at AWP knows that literary magazines are alive and well. And while never really devoted to travel writing (with the exception of Bill Buford's Granta in the '80s), they have always provided a good home for the long narrative travel story and the thoughtful travel essay, neither of which is especially welcome in the glossy travel magazines.
Could you talk a little about the old Granta?
Bill Buford turned it into a kind of house organ for travel writing, publishing new writers of course – like Colin Thubron and Ryszard Kapuściński – but also rediscovering old ones, like Norman Lewis and Martha Gellhorn. Travel writing was all the rage, sort of like the memoir is today, and Granta played a major part in its popularity. Travel writing was so big that Banana Republic, which was then selling a lot of safari style clothing, and had travel bookstores in the back of its stores, came out with a travel magazine, Trips. The inaugural issue carried a beautiful essay by Richard Ford on growing up in his grandfather's hotel in Little Rock, Arkansas. Unfortunately, that issue was the last.
Do you have a tried-and-true submission process?
I wish I did. The closest I've come to such a thing – and this is something I tell all my students to do – is to keep in touch with any editor who sends an encouraging rejection. Back in the '80s, when I was starting out, I would get turned down gently, and with occasional praise, from the editor of The American Scholar, Joseph Epstein. Whenever I had something new that I thought worthy of his magazine, I would submit it and, eventually, he published me. In the age of Submittable, building a relationship with an editor is much harder to do, especially when – for many of them – silence has taken the place of the rejection letter or email.
How did your work as an editor at the Sun-Sentinel inform your submission process?
Years of reading long-winded, overwrought, self-flattering cover letters taught me to be short and succinct: saying in as few words as possible what the story is about, why it's important, and why I'm a good person to tell it.
How (and at what point) do you decide where to submit a finished piece?
I submit as soon as I'm happy with the way the piece came out. This feeling comes after countless rereadings and endless tinkering. I almost never share my work with friends, even writer friends, to get their feedback. Submitting, I always start with The New Yorker, The Atlantic, and Harper's. Not because I think they're necessarily better than a lot of literary magazines, but because they can give a writer more exposure – and money. When I learn that the piece is, in the words of the business, not for them, I start sending it to literary magazines.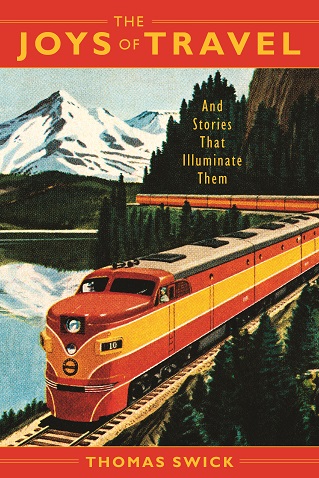 Anyone who's ever walked through the exhibition hall at AWP knows that literary magazines are alive and well. And...they have always provided a good home for the long narrative travel story and the thoughtful travel essay...
What does the realm of literary magazines offer to travel writers and travel writing that other outlets do not offer?
In a phrase: Respect for the writing, and the writer's voice. Your story appears as you wrote it. There is always editing involved, but it's minimal (at least in my experience) and it improves rather than diminishes the piece. There is no editing by committee, such as you get with many of the large circulation magazines, where everyone involved often feels a need to meddle as a way of justifying their existence. Also, since you almost never write on spec for literary magazines, you go out and get your story and write it exactly as you feel you must. When you get an assignment from, say, a glossy travel magazine, the editors have a vision of what they want your story to be, and that can affect your research, your activities while in the place, and, definitely, your writing when you come home. (If it doesn't, the editing committee will be all over your story.) A few years ago I pitched an idea to a number of magazines (though no travel magazines) about going to Sicily and writing about the anti-Mafia organization Addiopizzo. No one was interested, but I went anyway. It would have been nice to have a magazine pay my expenses, but I had the freedom to pursue the story as I saw it developing (a set-in-stone travel story, considering travel's inherently unpredictable nature, is a perfect example of editorial hubris). And when I got home, with an intense week's worth of material, I wasn't constrained by a word limit. I wrote a leisurely lead and packed the story with scenes, descriptions, reflections, chance encounters, lengthy conversations – all the things that give a travel story life. The more I wrote – the story exceeded 7,000 words – the more I thought that only a literary magazine would ever publish it. The Missouri Review proved me right.
What are some of your favorite literary magazines for travel writing? For reading? For submitting?
They are one in the same: Granta, Missouri Review, Virginia Quarterly Review, Ploughshares, The Oxford American. Online, I like Roads & Kingdoms and World Hum.
What are some of your favorite pieces of travel writing that you've read in a literary magazine?
Two stand out, and I teach them both. The first is Jonathan Raban's "Mississippi Water," published in Granta in 1993 (it appears in his collection Driving Home: An American Journey). His opening page – in which he looks at that year's floods from a theological perspective, comparing the river to John Calvin's bad temper "sent to teach the God-fearing Midwest a lesson about stubborn and unregenerate nature" – is a masterpiece of analytical travel writing. The second is Reesa Grushka's "Arieh" from the Missouri Review, a deep, rich story that captures the spirit of Jerusalem by introducing readers to one of its more messianic citizens.
What advice do you have for writers looking to submit travel writing to literary magazines?
The most important, if perhaps obvious, thing is to think of travel writing as literature – and then to convert any doubting editors. Of all the genres, travel writing has probably the largest umbrella, covering everything from the Lonely Planet guide to Venice to In Patagonia. Most people are more familiar with the former; writers want to aim for the latter. On the practical end, look at the annual Best American Travel Writing anthologies and see where the stories, including the notables in the back, were published. Keep your cover letter short.
e.v. de cleyre is a semi-nomadic writer, currently residing in Oregon and pursuing an MFA in Creative Writing through NH Institute of Art. Her musings on writing, travel, and creativity can be found at evdecleyre.wordpress.com.